Anyone with half a brain cell knows that educrats, teachers unions and scum suckers living off school tax dollars were the bucks behind the Claremont and Londonderry lawsuits. This morsel of common sense appeared in the December 31, 2009 issue of the Union Leader.
Bob Odell and the Democrats in the legislature pander too much to these groups. Can any of these people think for themselves?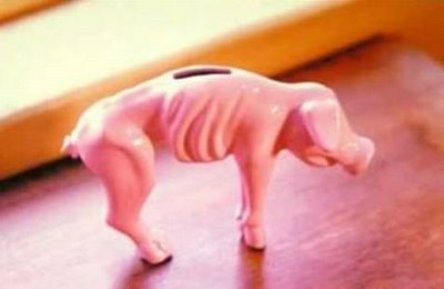 The current tax burden is disgusting, the one they will burden our children with because of their greed is unconscionable.
Cathy Peschke
Spelling and grammar errors as well as typos are left as an exercise for my readers.
School subsidies: The elephant in the room
Thursday, Dec. 31, 2009
As noted in this editorial (click for link), the last decade began with a huge dispute over education funding. Donor towns sued to stop having their money taken and redistributed to other communities' schools. At the start of this decade, donor towns are still with us.
The state spends about $1 billion a year on aid to local public schools. It claims and allocates that money not because the figure is somehow sacrosanct or because school districts wouldn't find ways to thrive without state aid, but because the state Supreme Court removed the Legislature's ability to decide whether to provide such aid and how much that aid should be.


Heading into the next budget, and the next decade, the single most important step the state could take to straighten out its finances would be to undo that absurd court ruling.

To his credit, Gov. John Lynch tried. But his fellow Democrats in Concord could not destroy the goose that might one day soon lay the income tax egg. A judicial requirement to raise education subsidies annually will, over time, create a financial crisis sufficient to convince legislators to find a new source of substantial revenue.

The most recent budget raised school subsidies by $123 million to comply with the court's dictate. The amount Gov. Lynch and legislative Democrats swiped from the Joint Underwriting Association, a private non-profit group, to balance the budget: $110 million.

Removing $1 bllion a year from the Legislature's control via a dictate that education funding must never be cut but funding for social services and law enforcment may makes no sense. Legislators must retake the authority to decide how to spend that money. Failure to do so will lead to a crushing level of taxation never before seen in this state.